Musical Groups For Adults And Teens
---
LIVING WORD VOICES
Rehearsals - Wednesday evenings 7:00-8:00 pm
Performances – Sunday morning worship, one service, 3 Sundays a month
NOTE: Choir members will join family/ friends in the congregation after singing
---
---
LIVING WORD ORCHESTRA
REHEARSALS – TWO SUNDAYS PRIOR TO A PERFORMANCE ON SUNDAYS, 12:10 - 12:40 PM
Performances - Sunday morning worship, both services, approximately 6 times a year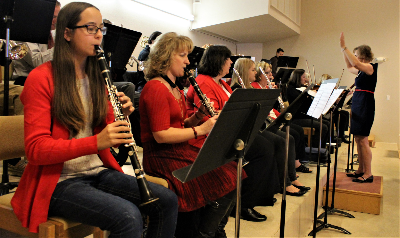 ---
---
LIVING WORD RINGERS (HANDBELLS)
Rehearsals - Wednesday evenings 6:00-6:50 pm
Performances – Sunday morning worship, both services, approximately 6 times a year
---
---
ADDITIONAL OPPORTUNITIES
Women's Ensemble
Men's Ensemble
Instrumental Solos/Ensembles
Vocal Solos/Ensembles
---


MUSICAL GROUPS FOR YOUTH (FOR AGES 3 THROUGH 8TH GRADE)
Cherub Choir ( ages 3 – kindergarten) Rehearsals- Wednesday evenings 6:30-6:55 pm
Cherub Creations (ages 3 – kindergarten) Bible Stories and Related Crafts - Wednesdays 6:00-6:30pm
Alleluia Choir (1st - 4th Grades) Rehearsals – Wednesday evenings 6:00-6:30 pm
Praise Choir/Handchimes (5th - 8th Grades) Rehearsals - Wednesday evenings 6:00 - 6:55 pm
---


MORE WEDNESDAY EVENING FUN FOR 1ST - 6TH GRADERS
After choir rehearsal, join our Youth Director, David Coulson, for a time of Christian fun, fellowship, and service from 6:30 to 8 pm.
CLYFF: 1st - 4th graders, 6:30 - 8 pm
CLUB 56: 5th - 6th graders, 7:00 - 8 pm
---


ADULT CHOIR RETREAT -(September And January). On a Saturday Morning from 9 to noon.
All those interested in joining the choir are encouraged to attend. We will begin learning the semester's music.
MORE INFO?
Call Denise Eibel at 817-481-8626 Email
Map/Directions